We had a nice Memorial Day, hope you did as well. It was such a beautiful day here in SoCal. Funny thing. We woke up with no electricity, so we were happy to get out of the house and head to our church's annual picnic. It's at a park, so the kids have a great time and get super tired. Yay for the park!
Ava was so good. Remember the other day when I said she got two new teeth? Well, it turns out that she actually had four new teeth! Her bottom molars came in at the same time. No wonder she was the worst I'd ever seen. Poor kid, she was hurting!
Hannah's toe is doing so much better. She went without her crutches all weekend and today even played around a little. She limped a little and her toe looks terrible, but you can tell she feels so much better.
Rusty got to play some manly croquet and get a sunburn on the back of his neck. He only gets it so that I won't forget that he truely is a "redneck"!
Oh and of course, he played a little bit of football.
And even though it looks like Hannah was holding a stake to kill vampires, she was actually just setting up for croquet. Her hair is getting so long. I have been begging her to grow it out again and she's semi-in agreement with me. Every other day though, she wants it cut short again. It's just that we can't find anyone who can cut her hair with the inverted bob that we had the first time.They always make it look so ugly and weird around her ears. So, until the day I find a great hair magician for Hannah, I don't want her hair short again.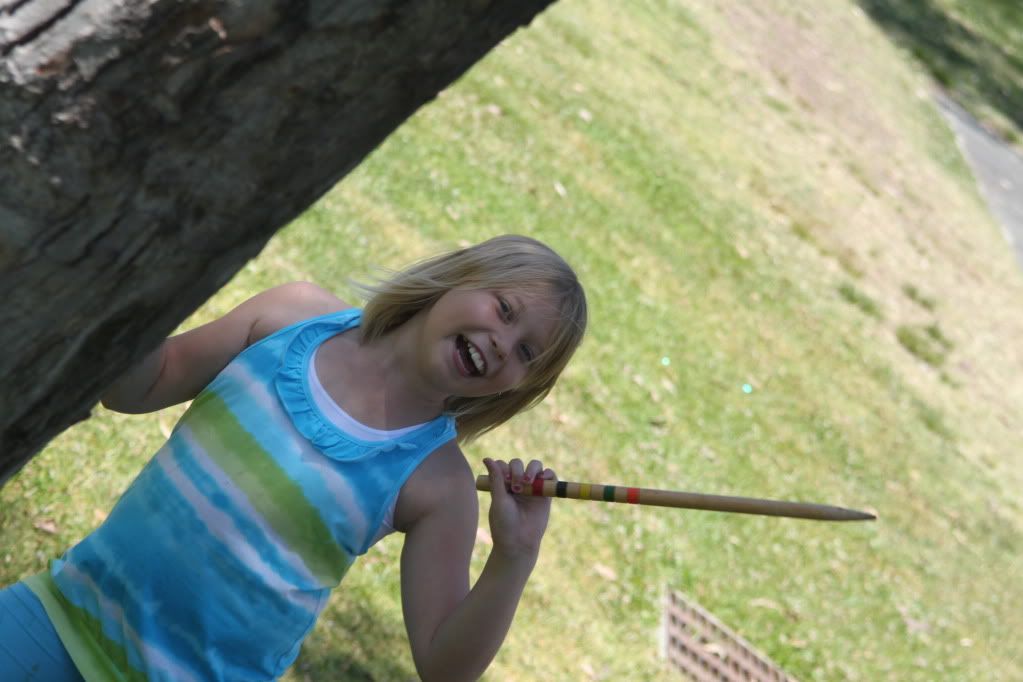 Mallorie played with her friends as well. Separate from her big sis, all day. You know what that equaled? No fighting. It was glorious.
I'm so sad the long weekend is over. Luckily, Rusty is off again on Friday, so we'll get to have him home a for another three days next weekend. I guess I'm just ready for summer vacation, it just can't get here soon enough! I hope you have a wonderful week.
~Blessings~