Sorry, the title is bad, but I had to share these pictures. They're unbearably cute. I had to buy diapers today and saw these "blue jean" diapers and had to get them. They have the decor of real jeans and are too sweet! Top it off with the little boots and she was just adorable. Obviously I didn't take her out like this, but she played in the backyard when we got home while it was warm. She got to water my plants and pour water all over the cement. And scream at her sisters, but that wasn't part of the original plan.
Look at those legs!
.
I wanted to show the back of the diapers. They have the little seams and pockets for decor. SO sweet!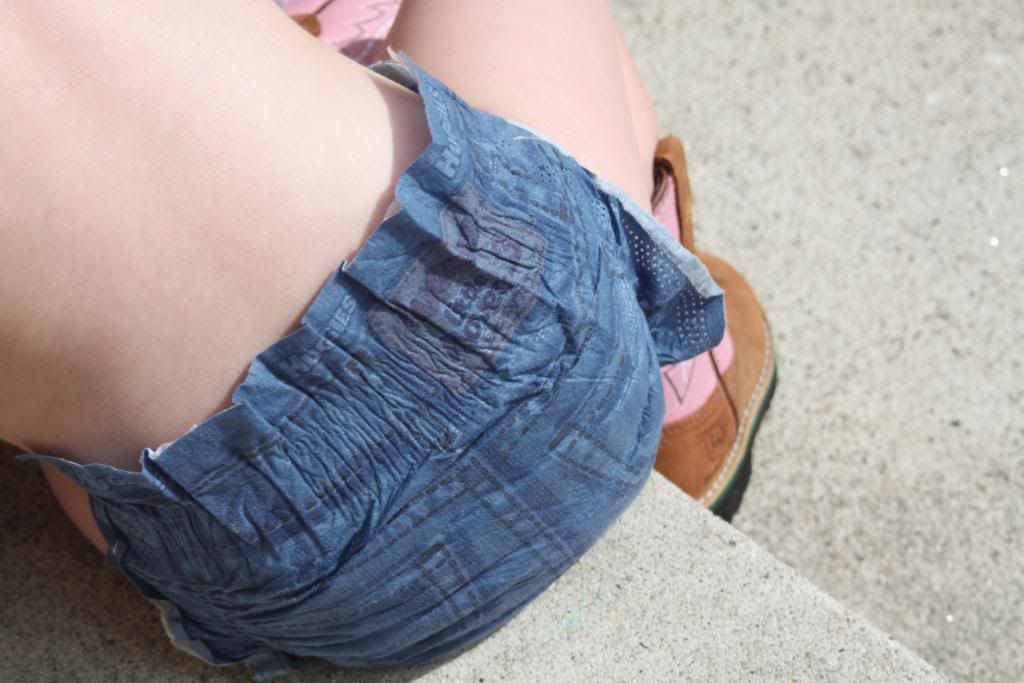 Just letting you know, this picture from Tuesday does not do the true sight justice. Her poor toe.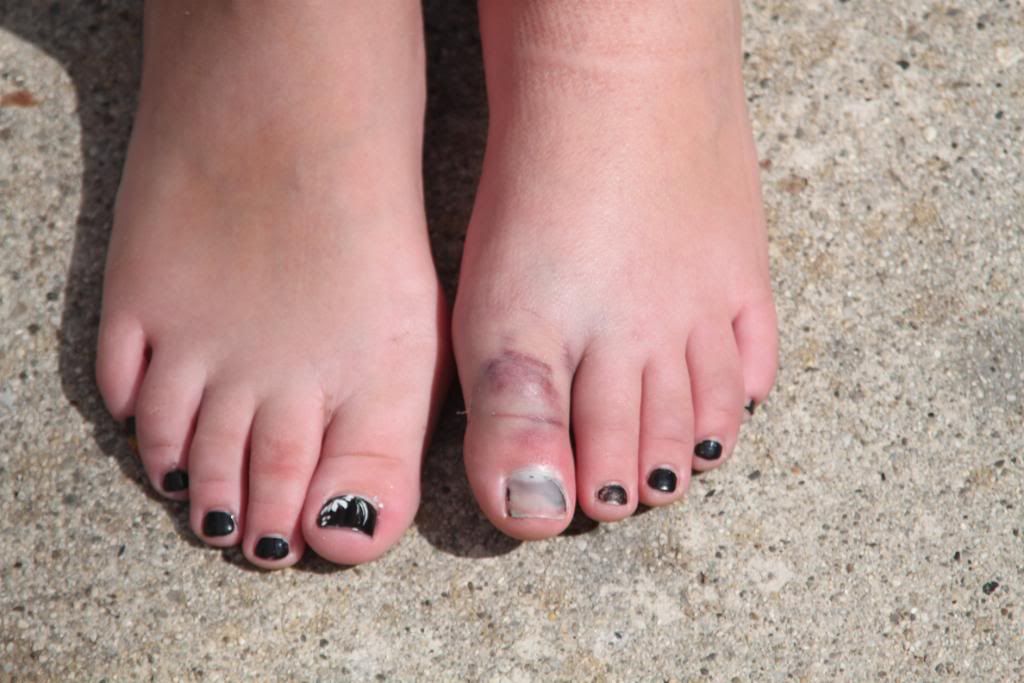 Sunday at church, Rusty had a small entertainment center (still in the box) in the back of his car for his classroom. Hannah was trying to be helpful, so she opened the back and the box fell out right on her toe! I didn't know what happened. I just saw it fall, but I was headed into the church to go teach my class and had no idea she had been hurt. After class I saw her and her toe which was huge and already quite bruised. I thought for sure it was broken, but after getting xrays Monday, we found out it's just a very big hematoma underneath her skin. She doesn't realize just how lucky she is. I know toe pain is one of the worst you can get, so I feel so sorry for her. The doctor gave her crutches to help keep the weight off of her food until it starts feeling better. As of today, she can't put her shoe on, so I am hoping tomorrow that will change and she'll have a little bit of protection on there.
This picture was from Monday, so the color has changed a bit since then, but now the toe next to it is swollen and more bruising on the lower toe and on the side of the foot is present.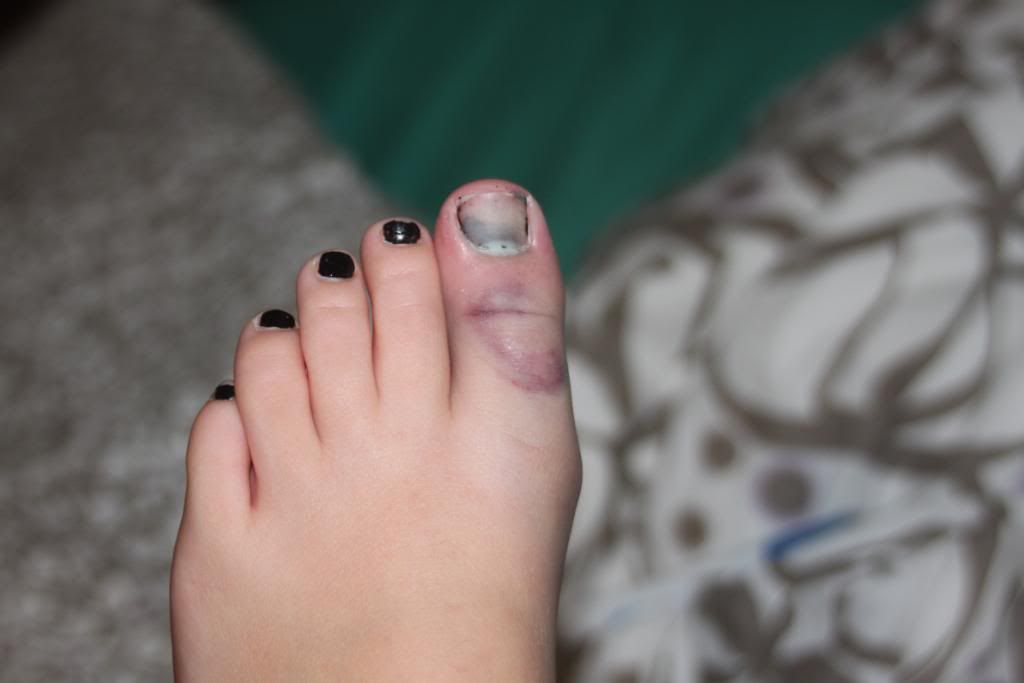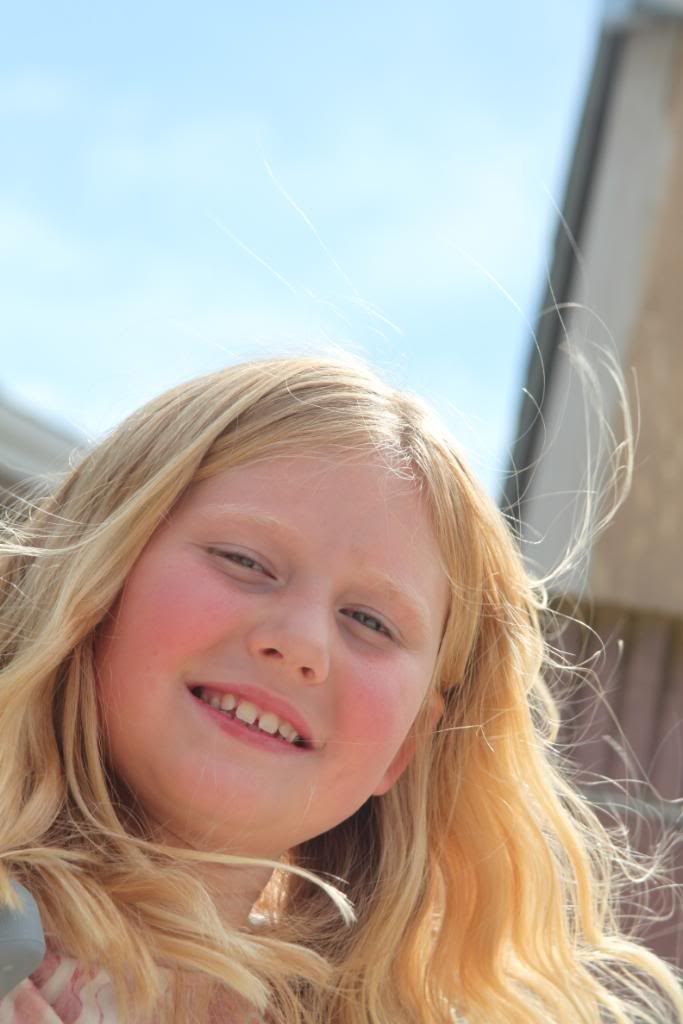 This girl is just a bit jealous. But she's not doing as bad as she could be doing. I told Hannah to just let her play on the crutches when we are home and that it would help her not be so jealous. So far, it's working. She gets to walk on them when Hannah isn't using them and is always willing to give them back if needed.
She was practicing for the karate crutch kick fights. She got extra points for wrapping her ankle. It adds to the sympathy vote.
Right after we took this picture, we went into the house and on the way in Mallorie stubbed her toe on the door! OWWW!!! My kids must be lucky, ha!
We're busy busy this week. My big end of the year art show is Thursday night and I will be spending the next two days doing nothing but getting ready. I'm stressed and so ready for it to be done already. Rusty took off Thursday so that I could work nonstop. What a sweetheart! I don't know what I would have had to do if Ava wasn't being watched. My head is going to be focused on only one thing that day. Mallorie has a big project due today and a test. It always happens that way!
I hope you are having a wonderful week. It's flying by. It is so pretty here, but I must say I am ready to feel some Texas weather!! We had fried catfish and hush puppies the other night and OH they were GOOOD! The kids loved them and even Ava ate them right up. I miss that kind of stuff so much.
Anyway, have a nice day today!
~Blessings~