Do you like my new header? I took the picture to show what I bought with my $25 gift card that I won on the Daily Mish Mash blog's contest several weeks ago. I also bought a Yankee candle to make my house smell like Christmas. The candle hasn't disapointed!! Anyway, I ended up liking the way the picture turned out so much that I decided it made the perfect header to make my blog look "fallish".
At Hannah and Mallorie's school the other day some people that own a little farm donated pumpkins for all the kids. The created a little pumpkin patch for the kids on the playground and the kids got to go out there and pick one to take home. I love the fact that some one was nice enough to donate, but also I am sure that most kids have never been to a pumpkin patch, so what a treat.

So, what do you do when you have a couple of pumpkins sitting on your front porch?

Well a mini photo-shoot of course!

Ava and I did just that the other day out on the front porch. She is already completely used to the camera. I just love the way these pictures turned out. Yeah, I hate the door in the background on this one, but at the same time, it's my door with my little munchkin sitting on my front porch. My goodness, she's getting big.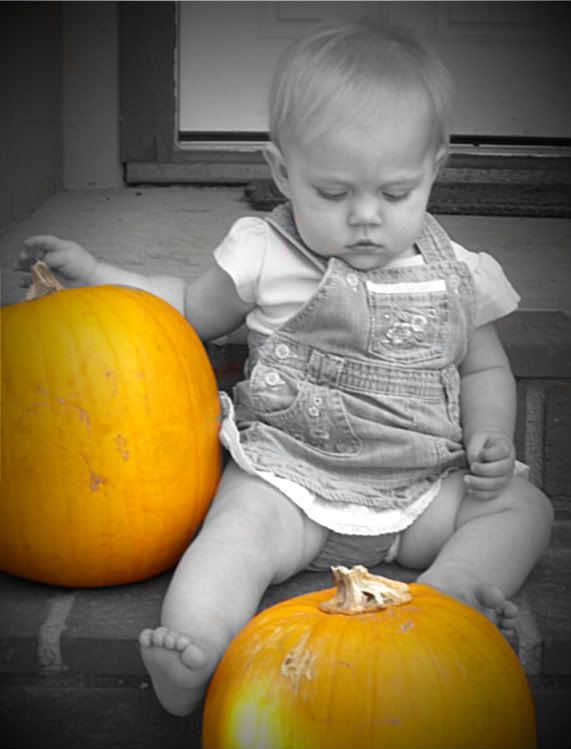 And this one. Well, this one is just cute! She is such a happy girl and while she does wear me out daily, she also brings a huge smile to my face and everyone else's that she comes into contact with.


So I went to Goodwill today. I hate going there. It's nothing more than a pride issue. But I went and the girls and I had fun. We got some big overalls for Mallorie's costume and a man's plaid shirt. She is a scarecrow this year. We found Hannah a black long sleeve shirt and some black tights for her "arms". She's going to be a spider. I am so excited because this is the first time we have ever made our own costumes completely from scratch. We usually buy their costumes or they have barrowed friends' before. Little Miss Ava will be a ballerina. She is using Mallorie's old tutu and I think I will put ribbons around her fat little ankles to look like lace up ballet slippers. I am so excited to get them all dressed up for Halloween. It's so much fun to let them wear crazy make-up and cooky hair.

I'll make my big girls take some pictures tomorrow. We're always so busy and Mallorie hasn't been herself still from bieng sick all weekend. She's so tired and grouchy in the evenings. It's like she just always wants to go to bed almost immediately after getting home. Not like her at all.

Hannah is good, just being Hannah. I'll try to post more tomorrow. It's so pretty here lately, so maybe I can take advantage of that and get some good pictures.
Have a great rest of the week. Blessings.....