Yes, I said nudity. Read on.
Ava stripped in a store today. It was nuts. I chased her down as she was yanking her shirt over head as fast as a 22 month old ever has, in my opinion. I don't even know what compelled her to do it, but suddenly it was happening and as calmly as I could I grabbed her and wrestled her to the floor trying to put her shirt back on, I wasn't even thinking about trying to find a dressing room, I just wanted to get that shirt back on her. Twice she got away screaming and yanking her shirt back off. Other moms looked on with a mixture of pitty and gratefulness that it wasn't their toddler stripping and screaming in the store. I wasn't humiliated, I was actually trying hard not to laugh. She just wasn't happy in her shirt and didn't care who knew about it. In the last month she has certainly started acting out in whatever way she feels like at that moment. Fits, yelling, hitting, being silly, I guess it's all a part of being 2. She keeps me on my toes!!
I wanted to show a little bit of our Christmas decorations. Like I said, we got a real tree this year and when they trimmed the bottom for us, I kept the limbs and used them to cover our mantle. I love the way it turned out. The lighting here makes it seem a bit odd, but it's very pretty and smells heavenly. We put white lights underneath the branches and it gives a nice little glow. I've stuck some small decorations in there that aren't very noticeable and a few items that mean a lot to us. We don't have a set of five stockings so I haven't got any hung, but that's on my to-do list.
I am going to stick some of our Christmas cards in there as they come in the mail. This is the first one I got. Can you figure out who it is? It's baby Holly, my sister's new little one. I took their pictures while we were in Texas and this is a few of them. I love the way they ended up on the card, but it's really Holly that makes the pictures turn out so good, she's just gorgeous!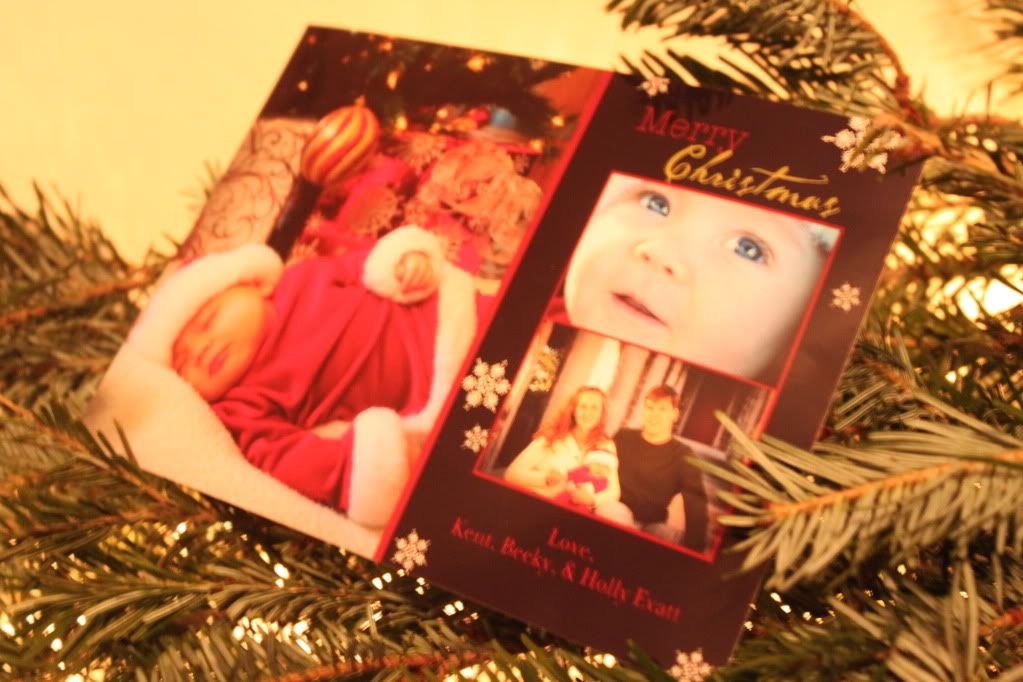 And here's our perty tree. We have pretty high ceilings in this house so we found a big tree this year. I love the way the lights from the Christmas tree look in your home in the evenings. It adds such a nice ambiance and makes you feel so warm. I can't wait to stick some presents underneath this tree, I am so excited about Christmas!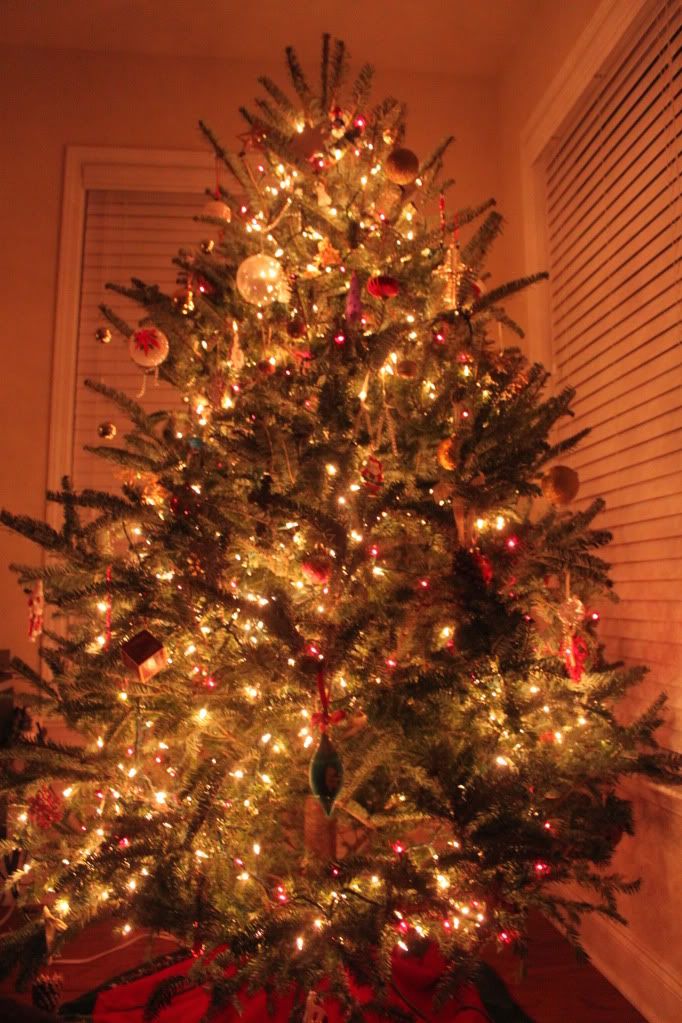 I start working (sort of) tomorrow for my neighbor watching her son after school. I'll be earning a little cash and he'll have somewhere fun to go after school and I know as a mom, she'll feel better about him being here. I think tomorrow we'll make the dining room into a massive fort and have a bunch of fun. I don't know what we'll do with a boy around here, but I know we'll have fun. I've got lots of ideas to keep them busy and hopefully laughing!

Are you having fun shopping for Christmas? I'm still in the brainstorming stage. I don't know what to get anybody. This is so pathetic. I should already know what I'm going to buy for everyone, but I don't. I think I'll make my planner tonight so I don't waste time when I get into the stores. Being sick on Black Friday really threw me for a loop. And then to top that off, on Cyber Monday my anti-virus software expired so there was no way I was going to shop online without any kind of protection. So I have a few weeks left to get all this done. Oh, I'm not worried, I'm a shopping pro; it's just having to come up with ideas for certain people that have me stressed. If you have any good ideas for husbands or kids, send them my way, I'm always up for suggestions!
Have a good day!