Saturday was her official 9th month birthday, but that's okay, I'll post her picture later.
Today Rusty has taken off work and we are headed to Disneyland for the day. Well, after the girls go to school anyway. I am takin full advantage of Rusty being off though. I have an art class to teach first thing in the morning and then he and I, along with Ava are headed off to Sam's or Costco to buy groceries. We're so excited. This will be the first time for us to have gone without Hannah and Mall
orie in a long time. Please don't think I'm being mean, we love them dearly, but as soon as they figure out that we aren't buying them anything during our shopping excursion, well, let's just say they get tired very quickly!
This weekend we have been super busy, but in a good way. The wedding was very beautiful. The groom wrote his own vows, to the surprise of the bride. No one had dry eyes after hearing him. They both looked beautiful and will now live happily ever after.
The birthday party was fun. We went thinking we'd only stay a few minutes because I was pretty tired from getting the wedding reception ready Friday and then Saturday morning, but we ended up staying 2 1/2 hours. It was nice to sit and visit with friends. Especially those we don't see too often.
Sunday evening we had our annual Thanksgiving dinner for church which is always fun. It's a mixture of tons of food, loud conversation, and a time to catch up with people who you don't always talk to. At some point I can't handle the "loud" anymore, so I go hide somewhere else until it's time to start cleaning and then I come out of hiding and work. It's dumb, but I am getting to where I hate crowds, especially crowds in small spaces. Anyway, the work gives me an excuse not to talk to anyone. You know, except the occasional byes or offers to help. I even took the trash out. I never take the trash out. It's on my list of most hated chores in the world. Right behind putting away laundry and doing the dishes. I'd rather vacuum and mop any day. Something about the lines it creates. I don't know, I just like those chores. Dumb.
So back from LaLa Land. I'm not sure how I got off on that strange tangent, but I do want to continue my Thankful posts. So, here are some more things I am thankful for....I will have some pics at the end of the post, so hang on...
I am thankful for my Mother-in-Law. Yes, you heard that right. We've come a long way since she met me, a selfish, boy crazy 16 year old. We certainly didn't always see eye to eye in the beginning, but we've come a long way and I love her dearly. I am thankful that she loves her grandgirls and always makes them feel so loved!
I am thankful for my Nanny. I've said it before and I will say it again, she does no wrong. Some of my very favorite and most vivid memories are the time I spent at her and my PawPaw's house. Playing Farkle and Yatzee, walking naked through the strawberry patch(as a toddler ya weirdos!), the red beads hanging in the basement. I could go on and on and probably bore you to tears with my fun memories. The most important thing about it all though, is that she is someone that I am so very thankful to have in my life and I love her more than words can express! (Oh and I miss her bunches too!)
I am so thankful for quiet time. Lately I don't have a lot of it, which makes the little bit that I do get seem priceless. I usually spend it talking to Rusty or calling somebody and occasionally just sitting down doing nothing. No matter what though, I am thankful for it!
Another thing I'm thankful for: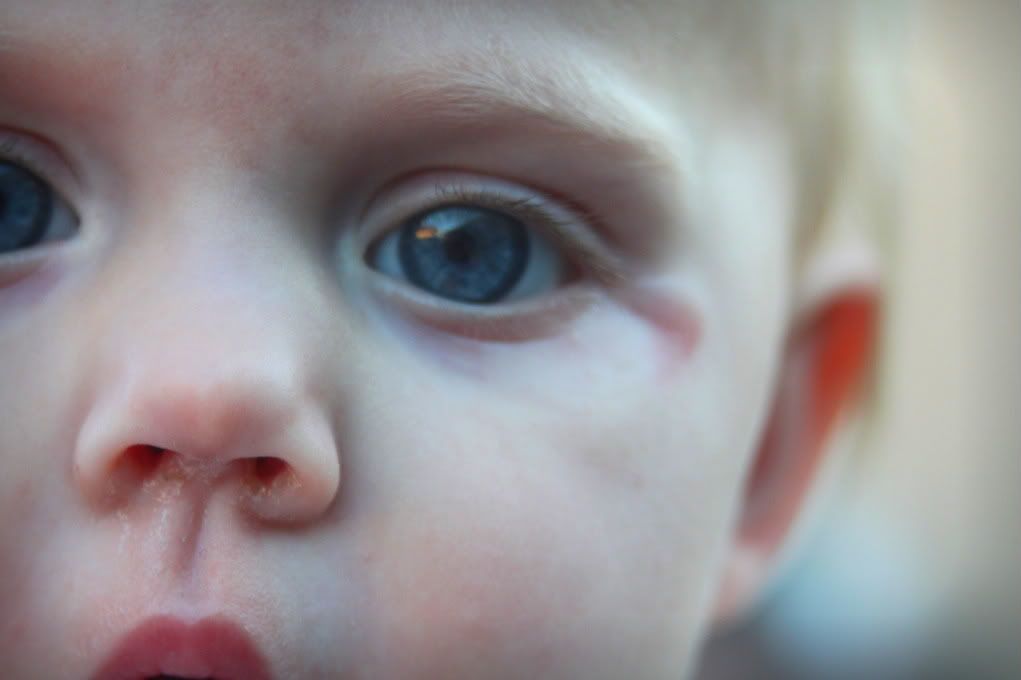 I'm thankful that when she bumped her face the other day, this little ouchy is all she ended up with. Yes, it was completely my fault!

I'm thankful that my husband isn't caught up in wanting a son. He loves his daughters and treats them like gold.

I'm thankful this little munchkin can finally feed herself. It may be messy, but that's fine with me!!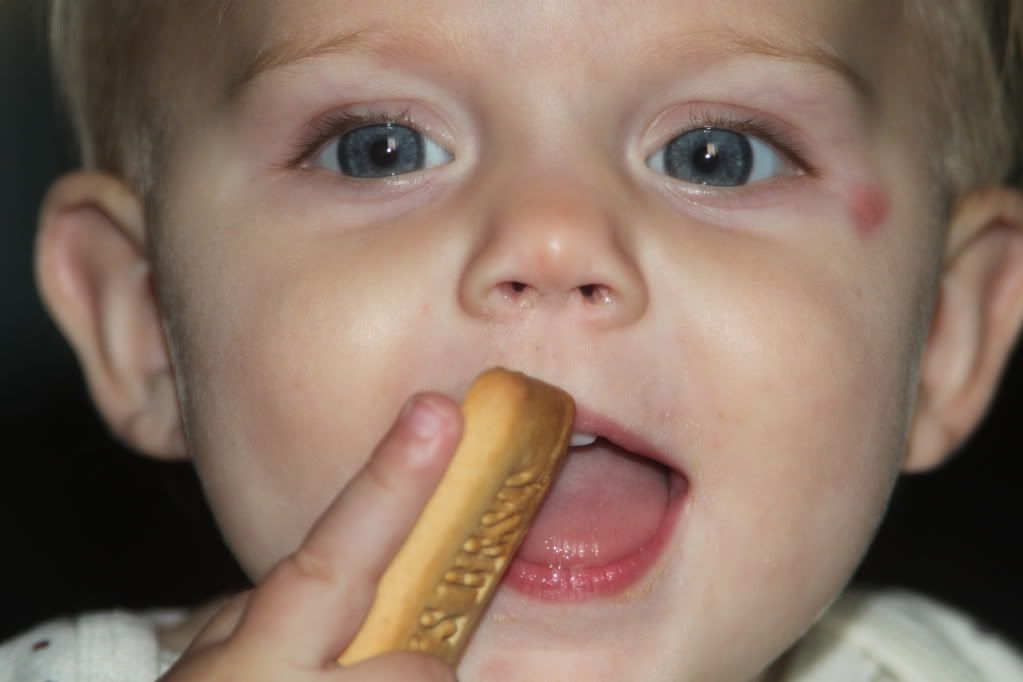 Hannah and Mallorie were being total toots and would NOT look a little normal for me. I was just trying to practice taking some pictures and all the want to do is hide!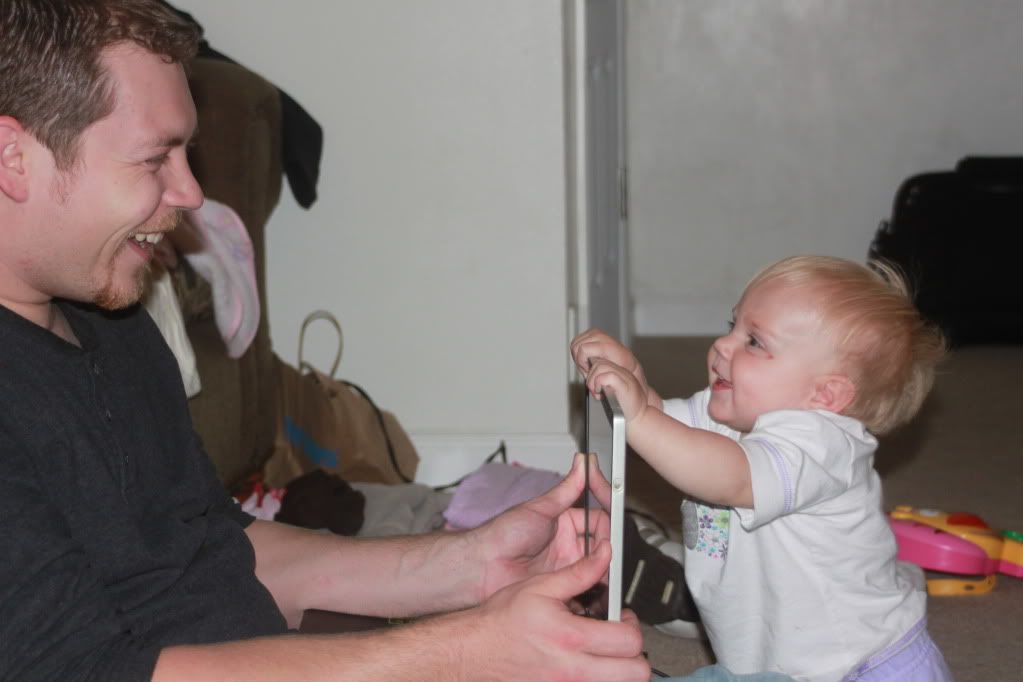 So, like I said, I'll post Ava's 9 month pic and update later. I am having to write some of this post on my blackberry!
Hope you have a great day!
-Blessings-